Last updated: 9 February 2002

Recent Headlines Submit News

---
9 February 2002

Crossovers or no crossovers - that is the question




Marti Noxon at E!Online has been reported has to having doubts as to whether or not ther will be any crossovers next year.

"There's always a vague, dim hope that you'll get invited to the party. But the truth of the matter is, I think that moment has passed for us. I think if it were going to happen, it would have happened by now. It has to do with perception and the fact that voters for the Globes and Emmys are older. They don't quite get it. It's a generational thing,"

"It's unlikely that we'll see crossovers, at least for right now. Things would have to change pretty radically for us to be able to do that. Just 'cause, you know, different networks."

This is contadictory to Joss' rather more optimistic outlook on next years crossover speculation. I guess we'll have to wait and see.
More Stage News
---
9 February 2002

Angel Broadcasts


US - The WB have apparently dropped their Thursday night repeats of Angel. And it would also appear that the new episodes on Mondays will no longer be regular. Episodes are schduled for Mondays, so don't worry, you'll still be getting you fix of new Angel eps, it just won't be every week!

UK - Channel 4 have obtained the rights to show the second season of Angel, they have not yet said exactly when episodes will begin airing but it is likely it will be this summer.


More On Air News
---
16 January 2002

'Ripper' Update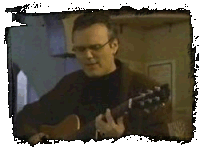 At long last the BBC website has reported some more on the Buffy spin-off Ripper. Heres what Tony Head has to say.

"It's been in gestation for a while, Joss wrote a two-hour pilot. He only wants to do a short order, like a British drama series."

"Now I believe he's got an order for six, and the pilot stands slightly outside of that. So I think he's writing another episode to give to the BBC an idea of budget and where it's placed.

"I've suggested the West Country (a) because it's where I live and (b) because it's steeped in myth and tradition. Joss is up for that, but first he's got to break a series for Fox as part of his contract. He's also doing a movie, and the Buffy cartoon is on its way."

More Stage News
---
11 January 2002

Musical episode to be shown uncut

The BBC currently airing Season 5 has promised fans that they will be showing the full and unedited verison of the season six musical episode. This has reportedly prompted SKY One to shown the unedited version too this February (scheduled 16th).

More On Air News
---
8 January 2002

Buffy Season Six UK Premiere

UK viewers will finally be able to see the Buffy season six premiere 'Bargaining' on SKY One on Thursday 10 January at 20:00.
Remember to set your videos correctly for this two hour spectacular.

More On Air News
---
8 January 2002

Angel Season Three UK Premiere

Angel's third season will premiere with 'Hearth Throb' on SKY One on Thursday 17th at 21:00.

More On Air News
---
8 January 2002

Nocturnal conventions cancelled

The upcoming 'Nocurnal Rebirth' and 'Nocturnal Inferno' have been cancelled due to circumstances beyond the control of the events organisers.

More Events News
---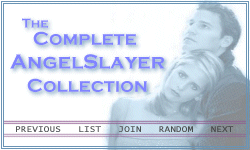 Design © 2001 The Watchers Council. by Kevin UK.

Buffy the Vampire Slayer and Angel trademark (TM) and copyright (©) Joss Whedon, Mutant Enemy, and/or the WB Television Network and/or the UPN Television Network. All rights reserved.
Any content on this site relating to "Angel" or "Buffy the Vampire Slayer" are their characters, artwork, photos, and trademarks are the property of the aforementioned entities.
The webmasters are not affiliated in any way with the aforementioned entities. The information on this, and adjoining, pages is provided solely as an informative and entertaining resource. No copyright infringement is intended nor implied.
Proud member of the Bronze community.


Full broadcast schedule